QUANTUM CHAINSAW CARVING
Rodney Holland Chainsaw Carving is located in beautiful South West Scotland where Rodney lives with his wife and two young children.
I have always lived in the South West of Scotland and find its scenery and wildlife very inspirational.
Visitors are welcomed at my studio near Moniaive as I usually have a pre made display work in progress and of course a photo album of commissions. It is best to make an appointment before visiting.
CHAINSAW SCULPTURE COMMISIONS
I am happy to discuss new commissions, explaining the procedures of the applicable work.
With such a varied range of carvings costing is based on custom requirements i.e. Size, Configuration etc. Once all requirements have been discussed an accurate costing can be achieved.
STUMP JOBS
A large percentage of my work entails "Stump Jobs". People often contact me about a tree in their garden that has to come down due to disease, storm damage etc.
After consultation they are advised how much stump to leave for me to carve the desired piece.
Most of the tree can be used as smaller pieces carved to decorate other areas of the property.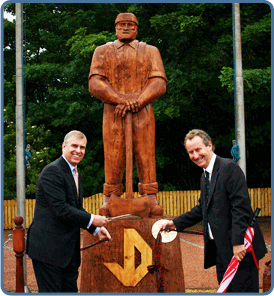 Rodney Holland
Craignee
Moniaive
Dumfriesshire
Scotland
DG3 4EN
Tel: 01848 200271
Email: rodney@chainsawcarving.co.uk